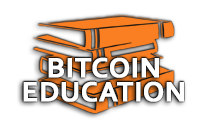 Empower yourself -- take part in the evolution of money!
Bitcoin offers tremendous benefits to individuals and businesses, alike. Bitcoin is a peer-to-peer technology; there are no middlemen to slow things down or charge excessive fees. Using Bitcoin disempowers unfair banking and governance systems by making value exchange freely available to everyone. Empower yourself while supporting a more accessible and frictionless global economy!

The key advantages of Bitcoin:

No identity theft
Unlike credit cards, Bitcoin does not require any personally-identifiable information for transactions.
Protect your money
The ability to make backups and encrypt your funds allows for an unprecedented level of security.
Send money instantly, anywhere, at any time
Much like the internet, Bitcoin spans the entire globe and can never be shut down.
Funds cannot be restricted or frozen
Bitcoin is decentralized, no single person or group controls it, and no one has the power to seize your assets.
No arbitrary limits or fees
With Bitcoin, there are no banks to impose arbitrary fees, and there are no withdrawal limits or holds on deposits.
No unapproved charges
Transactions are always initiated by you; garnishments and recurring charges cannot happen with Bitcoin.
No barriers to entry
Bitcoin is free to use; anyone in the world can download a digital wallet.